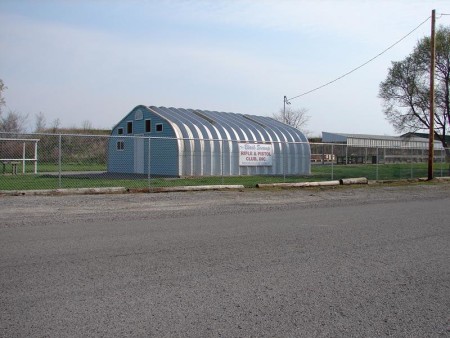 The Black Swamp Rifle & Pistol Club (BSRPC) is a members only club for handgun and long gun shooters.   Whether you are a first time shooter, serious hunter, pleasure shooter, or an avid Bench Rest competitor you will find a friendly and inviting atmosphere at our club.  We strive to ensure that the club is a safe and enjoyable place were the whole family can come and partake in the shooting sports.
We offer dedicated ranges for both handgun and long guns with covered shooting houses for when the weather doesn't cooperate.  Our rifle range has target stands and back stops at 50, 100 and 200 yards, and is equipped with 25 concrete benches to shoot from.  The handgun range has target stands and back stops at 15, 25 and 50 yards, and is equipped with rails at two different heights as well as two concrete benches on the west end for shooting at 25 and 50 yards..  Members can supply their own paper targets or choose from the wide selection the club makes available to it's members inside the maintenance building.
The Club recently added a shooting lane for archery on the east side of the pistol house which features a movable target for shooting anywhere from 5 to 45 yards.  Please shoot from behind the rail as this will keep you even with the firing line of the pistol range for safety . Please do not shoot the archery targets with firearms as they are not made for that.
In support of the Second Amendment and a persons right to defend themselves and/or their family, we allow select qualified instructors use of the range for the required live fire part of Ohio's Concealed Carry Training Course.  In an effort to allow our members as much access to the range as possible we limit the use of the range for this type of training to one day a month in the spring , summer and fall . Thus allowing between 27 and 30 days a month for general membership to have unlimited use of the range.
The Club also hosts several different matches during the summer months.  Each month from April through November the club hosts an IBS sanctioned Northwest Ohio Bench Rest Shooters match, a sanctioned Automatic Bench Rest Association 22 rimfire match, and informal centerfire and rimfire handgun matches.  We do our best to ensure these events are spread out over the course of the month so that the range is available to our members to enjoy for at least one full day every weekend.
Unfortunately we cannot allow aerial targets of any kind at our range due to the proximity of the Waste Water Treatment Plant and the house being built in the woods to the west of us.  If you are interested in  this type of shooting (Trap, Skeet, Sporting Clays, etc.) we can put you in touch with a number of other clubs in the area who offer such facilities.